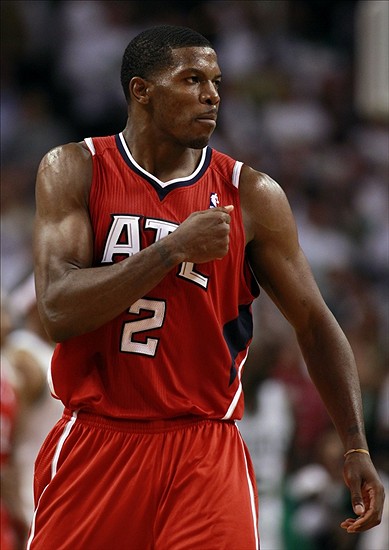 Everybody thought an NBA All-Star would be joining Deron Williams in Brooklyn. Most of us just assumed that player would be Dwight Howard — not Hawks sharpshooter Joe Johnson. If you called this Johnson trade over a Howard one some time ago, perhaps you should look over sportsbook reviews. It would probably be wise to find a good sportsbook and make some money off those Nostradamus-like skills.
Johnson is a few years into a monster six-year, $119 million deal. Even though he's still widely considered one of the best two guards in the league, he hasn't quite lived up to that mega-contract. Regardless, the Johnson-Williams pairing (contingent on D-Will returning and not bolting for his hometown Dallas Mavericks) is possibly now the best backcourt in the NBA.
This move also pulls Brooklyn out of the Dwight Howard sweepstakes. Apparently, Howard was hellbent on departing the Magic Kingdom in favor of Brooklyn's snazzy new import. You can certainly see the appeal. If Howard catapulted the Nets from laughingstock to NBA Champions, he'd be the talk of the town and the Nets would be the hippest franchise in sports. A championship in New York might be worth several anywhere else. The Magic apparently were moving way to slowly for the Nets, who needed to get something done before they pitched Williams on staying. The only way the Nets would likely land Howard now is if Williams walked. The Mavs and Rockets remain as possible suitors for Howard, with other teams possibly entering the mix.
For Atlanta, this is a sign that the Hawks are rebuilding. It will be interesting to see what they do with Josh Smith now. Smith is one of the strangest, yet also most versatile and athletic, talents in the league. He wouldn't fit on many rosters, perhaps even most. A team that desperately needed athleticism, like, say, the Lakers, would be a great fit. Stud big man Al Horford has also been mentioned as a trade possibility. All of this makes since down in the ATL, as the Hawks just haven't been able to get over the hump and advance deep into the playoffs with this group of players.
The Hawks will receive Anthony Morrow, DeShawn Stevenson (sign-and-trade), Johan Petro, Jordan Farmar, Jordan Williams, and the Rockets' 2013 lottery protected first-rounder.