One of the surprise moves in the draft was the Jacksonville Jaguars selecting Denard Robinson in the fifth round of this weekend's NFL Draft. But the move was surprising in both the fact that Robinson was drafted as a wide receiver but also because when Robinson was shown being drafted by the Jaguars, he was photobombed by a friend who is likely now more popular with NFL fans than Robinson is.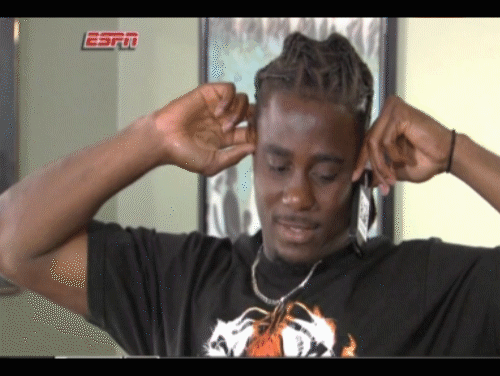 We don't know who Robinson's friend is, but he's certainly made his mark on unsuspecting NFL fans who weren't ready to see him pop up and photo bomb Robinson's big moment.
Is it bad that I like Robinson's selection more due to his friend?
While Robinson's friend surprised us all by popping out of nowhere to bomb Robinson's moment, it's the former Michigan star that is looking to surprise NFL fans now, as he enters his NFL career with incredibly low expectations. The Jaguars drafted the former Wolverines quarterback as a wide receiver, and Robinson was best remembered for his leg work and speed rather than his arm.
So hopefully it's a good fit for the Michigan product, but then again if a career in the NFL fails, he can alway get cheered up his his funny and clearly enthusiastic friend.