(Photo by Victor Fraile/Getty Images)
I'm not going to pretend to know anything about the World's Strongest Man Competition. What I will say that I know 975 pounds is very, very heavy. American Brian Shaw deadlifted 975 pounds (442.5 kilos) during the competition and ultimately won the 2013 title. Deadlifting requires you to life a weight on a bar basically up to around your waist, not over your head.
An Australian news outlet said this might be a world record:
Some say this epic feat of strength is a world record, while other claim the real world record is actually 457.5 kilos. There is no hard and fast set of records for stuff like this, as there is for say, Olympic weightlifting.
"He said that my kind of strength was unbelievable," Shaw recalled. "It was a one in a million. If I didn't do something with my abilities, I was stupid. That was pretty cool."
Turn your speakers down if you're at work because there are some expletives blurted.
Hat tip to USA Today's For The Win for the video.
Or here is a GIF for you: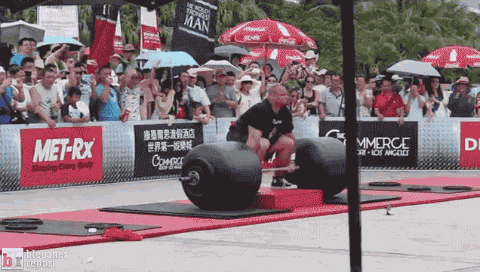 Bleacher Report
At least one other competitor tried to lift the same weight, but he failed.
Tags: Brian Shaw