Texas A&M and Johnny Manziel got out to a quick start against Alabama taking a commanding 14-0 lead that had Crimson Tide fans flashing back to last year. Manziel threw a touchdown within the first 3 minutes of the game. They followed up that touchdown pass about 5 minutes later with a Ben Malena one-yard touchdown run.
Johnny Manziel has been known to make some interesting gestures on the field. There was the money sign he does with his hand, there are the air autographs. Now he decided to take it to the professional level with a nod to a fellow speedy quarterback, Colin Kaepernick. The San Francisco 49ers quarterback celebrates big plays and touchdowns by kissing his bicep and the phenomenon, which spurned thousands of pictures of imitations on the internet called "Kaepernicking."
That was the gesture Johnny Manziel decided to unveil today in his ever growing arsenal. I like the homage to the NFL quarterback.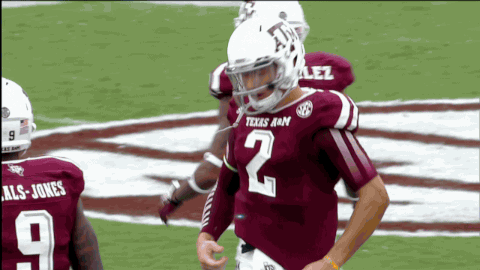 Bleacher Report
Manziel's second Heisman campaign is looking like it is going to get a considerable bump with a dominant performance against the #1 Alabama Crimson Tide again.
Here is another and maybe more fluid version for you:
Business Insider's Cork Gaines
Tags: Alabama Crimson Tide Johnny Manziel San Francisco 49ers Texas A&m Texas A&M Aggies