Genoa's youth goalkeeping coach, Luca De Pra, was caught spying on Italian side Sampdoria's practices from the woods dressed in camouflage, like Rambo. That is their words, not mine.
Sampdoria released the following press release, via BeganIn96:
That the derby is a question of nerve, tactics and strategy we already knew, but frankly we could never expect that it could turn into a scene of espionage.

Like Rambo hidden among the branches on the hill, Luca De Pra, Genoa goalkeeping coach and man of noble footballing ancestry, failed to overcome Sampdoria's intelligence and counter intelligence operations.

However, no prisoners were taken, and no blood was shed. Once tracked down and caught red-handed, the opposing side's soldier was let free to return to base. You should always forgive your enemies, as nothing annoys them more.
From Began in '96′s Zach Ricchiuti (h/t The Big Lead):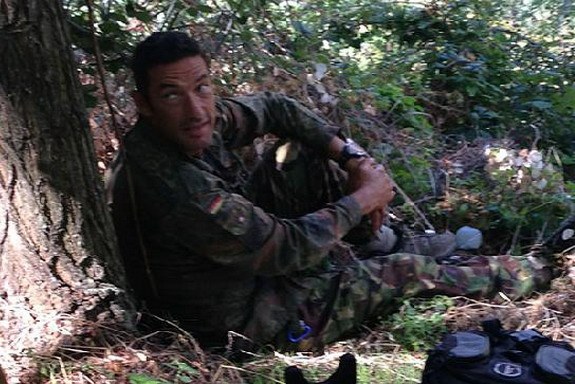 Photo Credit: Began in '96 (via The Big Lead)
Genoa is putting all the blame on De Pra to and washing their hands of the situation. As is the case in most secret agent movies, the agents are always warned if they're caught their country will deny any knowledge of the mission and say the agent went rogue.
Genoa's club statement from Metro:
No director or member of the coaching staff sent Luca De Pra to watch the training session at Bogliasco.

It was a personal initiative. This has never been done before and is not part of the club's modus operandi.

The club makes it known that De Pra has been suspended with immediate effect pending further explanations.
Dick's Sporting Goods presents "Hell Week":