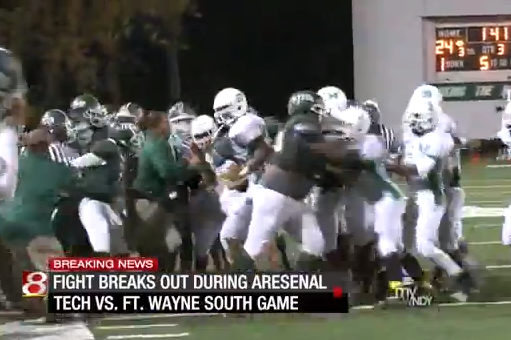 This seems to be a growing trend this year, high school football games ending in brawls. This time things got particularly violent at a game between Fort Wayne South (Ind.) and Arsenal Tech.
It all started with a late hit, Tech was leading 24-6 when the play occurred. A Tech player was running on a sweep and nearing the sideline and was headed out-of-bounds. That is when a Ft. Wayne player channeled his inner Clay Matthews and tackled the ball carrier out-of-bounds. He had gotten his hands on him before getting to the sideline but continued to make the tackle after they were out-of-bounds throwing the ball carrier to the ground.
Both teams got involved, obviously the player was on the wrong sideline. His teammates came to his defense and there was some pushing and shoving. As coaches try to separate the two sides they begin to get into it. One of the coaches was backing up when a player from the opposing team cheap shotted him knocking him to the ground.
Fans run onto the field and even get involved.
Police were called and referees called the game with Tech leading 24-6.
Bobs Blitz
, via
Bleacher Report
Tags: High School Football