Last night, Los Angeles Clippers' Matt Barnes was ejected for his role in a scuffle with Oklahoma City Thunder star Serge Ibaka. Blake Griffin went up to put in the bucket but Serge Ibaka blocked the shot. Some how, Ibaka's arm got caught on Blake as he walked away. It looked like Griffin clamped down on Ibaka's arm.
Ibaka then shoved Griffin as he attempted to pull his arm free. Matt Barnes saw this going down and stepped towards Ibaka and shoved him back, defending his teammate. That started a skirmish that saw Ibaka balling his fist up ready to throw a punch, which he never did.
Griffin was able to get back in between the players and was playing peace keeper for a bit while holding Barnes back. Eventually they're separated and both Ibaka and Barnes were ejected.
But that is the last time Barnes will defend a teammate according to a tweet he sent out, and then deleted. He blames it on the financial toll, that he can't afford to defend his teammates in a tweet that read: "Love my teammates like family, but I'm DONE standing up for these n****s! All this shit does is cost me money"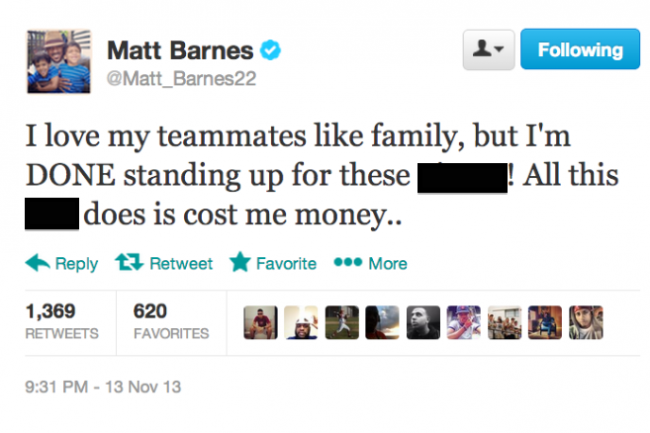 [h/t] Bleacher Report
This is real RT @Matt_Barnes22 Love my teammates like family, but I'm DONE standing up for these niggas! All this shit does is cost me money

— Jay L. (@1000Steps) November 14, 2013
In case you missed it:
[h/t] Zombie Prophet