The Los Angeles Kings and the Anaheim Ducks played an outdoor hockey game in Southern California at Dodger Stadium. The players were pretty excited about the whole expereience.
"We felt like rock stars," Anaheim defenseman Ben Lovejoy said. "That was by far the coolest feeling I've ever had playing hockey."
"It was maybe a little slower than some rinks, but it was smooth," Anaheim's Teemu Selanne said. "We're used to not-good ice out (West) anyway. The whole package was incredible. You don't have that many chances to play in front of 55,000 people. This was pretty high on my bucket list.
The Los Angeles Dodgers seemed less excited and vented on Twitter. They deleted it but is was captured with a screenshot via Next Impulse Sports' Kiley Kmiec: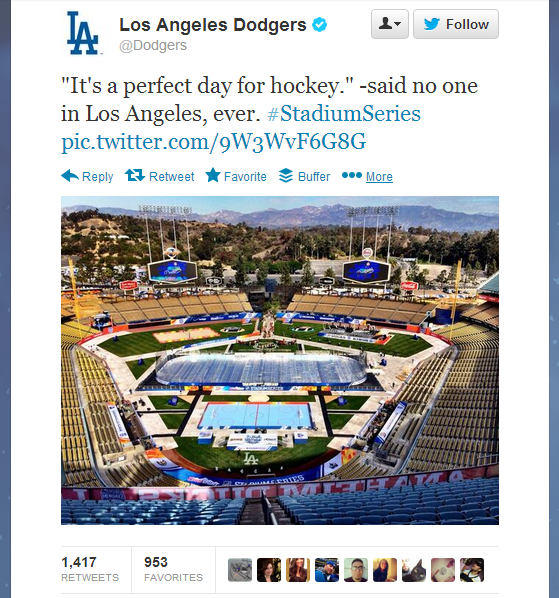 They eventually changed their tune and showed more support:
How are you spending your Saturday night? We hope you're here, with us #StadiumSeries pic.twitter.com/imKHquQ3WH

— Los Angeles Dodgers (@Dodgers) January 26, 2014
A look at last night's historic #StadiumSeries game in pictures: http://t.co/AUUlexdijW pic.twitter.com/zLTRViLh0h

— Los Angeles Dodgers (@Dodgers) January 26, 2014
It reminds me of the Twitter feud the Dallas Stars and Dallas Cowboys had, but less exciting.