Today Billy Donovan and the number three ranked Florida Gators took on the Alabama Crimson Tide. The Gators were able to take care of business and improve their record to 21-2 on the year, handing the Crimson Tide their 14th loss on the year.
Florida and Alabama closed out the first half tied at 36 a piece, but the Gators were able to pull away during the second half by outscoring the Crimson Tide by nine points.
Now something that grabbed the attention of viewers besides the game itself, was head coach Billy Donovan. If you look closely in the picture, or looked closely during the game whenever the camera was on Donovan, you can see that there's something on his lip.
It looks like coach either ran into something or he has something. It's that simple. Now I'm not trying to call the guy out, but it's a little distracting. If you look closely in the picture, you can see it. But just in case you want a close up look at his lip, here you go.
All I know, is it reminded me of Method Man from that movie 'How High'. Here's an edited version of what he said in a scene.
"That s**t on your lip got some s**t on it's lip, dawg."
You're welcome America.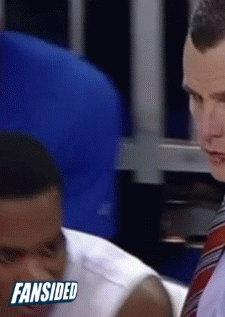 Tags: Billy Donovan Florida Gators