The Boston Celtics are taking on the Dallas Mavericks on Sunday night. They got a big play from forward Jeff Green who had a big one-handed jam against the Mavericks' Shawn Marion, their best defender. There are rumors that Green is being "hopped hard" and wanted by Atlanta Hawks, this could help make him look more desirable.
From Mass Live:
Over the past few weeks, Jeff Green trade rumors have been flying everywhere. The latest has the Atlanta Hawks wanting to acquire Green from the Boston Celtics.

According to Mitch Lawrence of the New York Daily News, the Hawks are "looking to get Jeff Green, who is being shopped hard by Danny Ainge and the (Celtics)." Lawrence reported Sunday afternoon that Atlanta would have to give up "DeMarre Carroll and more."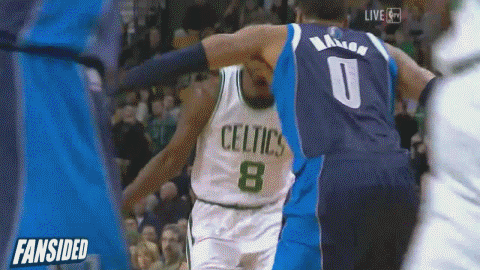 GIFs are courtesy of @FanSidedGIF and Zombie Prophet.
SEE ALSO:
Tags: Boston Celtics