The Orlando Magic are hosting the Indiana Pacers when they got introduced to forward Paul George. He had a big contested slam dunk and if that doesn't get you excited about him being in the contest during All-Star weekend, nothing will.
"I just thought it was a move that should've been done. Get some superstar power back into the dunk contest," George told Candace Buckner of the Indianapolis Star. "I think I owed it to my fans. Give them another run, another show and another opportunity to have fun at All-Star weekend."
It certainly has at least one star in the contest. The contest will also have Portland Trail Blazers' point guard Damian Lillard, Washington Wizards' point guard John Wall, Golden State Warriors' forward Harrison Barnes, Sacramento Kings' rookie guard Ben McLemore and Toronto Raptors' guard Terrence Ross.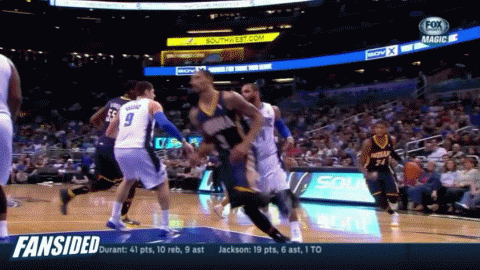 GIFs are courtesy of @FanSidedGIF and Zombie Prophet.
SEE ALSO:
Tags: Indiana Pacers