If you're not watching the NBA All-Star Celebrity Game on ESPN then you're missing out–that is if you're a Kevin Hart fan, because he's the biggest celebrity in the game that also features Michael B. Jordan from Friday Night Lights and The Wire and Secretary of Education Arne Duncan who are the two best players in the game.
However, Hart is the main event as he goes for his third consecutive MVP in this game and the comedian and star of Ride Along is doing his best to get viewers to tune to ESPN for the kickoff to the NBA's All-Star Weekend from New Orleans, Louisiana.
But it appears the Atlanta Hawks mascot isn't a fan of Hart because he tried to take his head off when Hart went to the bench late in the first half.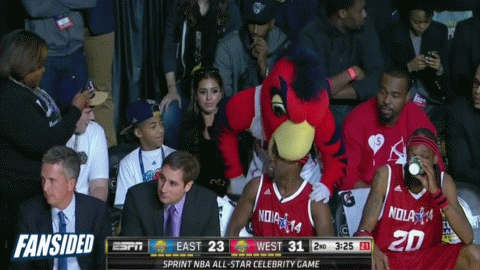 Maybe he wasn't a big fan of Ride Along?
Tags: Kevin Hart NBA All-Star Celebrity Game NBA All-Star Weekend