Sacremento Kings rookie guard Ben McLemore is one of the brightest young stars in the NBA and if you haven't seen much of him since he left the Kansas Jayhawks, you got to see him shine in the NBA slam dunk contest, even if you think the slam dunk contest sucks, McLemore put on a nice show.
The best dunk of the night for the Kings shooting guard came when he brought out TNT NBA analyst and future Hall of Famer and an all around ambassador for the NBA when he brought out Shaquille O'Neal who sat in a throne and watched the 6-5 McLemore soar over him as he slammed the ball through.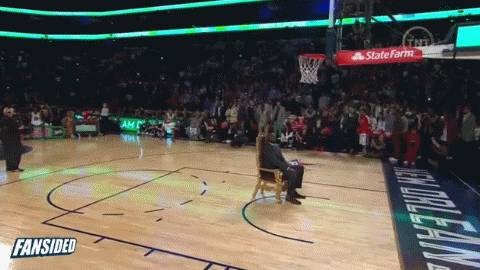 Props are a staple of the dunk contest and bringing out other people to be a part of the contest is almost a prerequisite, we even saw Terrence Ross bring out Drake earlier in the contest, but despite the presence of Shaq, it wasn't enough for McLemore as the West team lost to John Wall and the East.

Tags: 2014 NBA Slam Dunk Contest Ben McLemore NBA All-Star Weekend Sacramento Kings Shaquille O'Neal