Stephen Curry and Kevin Love entered the three-point contest as the two favorites to capture the crown at All-Star Weekend, but the two All-Stars fell short in their bid as San Antonio Spurs guard Marco Belinelli took home the honors.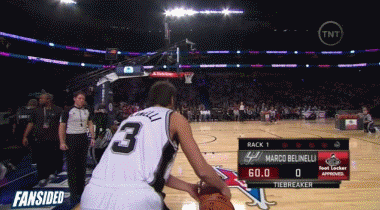 Belinelli needed overtime to take home the title as he and Washington Wizards sharpshooter Bradley Beal tied with 19 points to force the tiebreaker round.
Belinelli saved his best for last as he poured in 24 points, including sinking two moneyballs on the final rack to pad his total which was the highest of the night. Beal recorded 18 points in the tiebreaker round as he finished as the runner-up.
Next up on TNT is the slam dunk contest to close out the night's events.
Tags: Basketball Marco Belinelli NBA All-Star Weekend San Antonio Spurs