Saturday's NBA All-Star festivities kicked off with the shooting stars challenge which consisted of four, three-person teams having to make a bank shot from the elbow, a shot at the top of the key, a three-pointer and a half-court shot and the winning team was Chris Bosh, Dominique Wilkins and Swin Cash with a time of 31.4 seconds.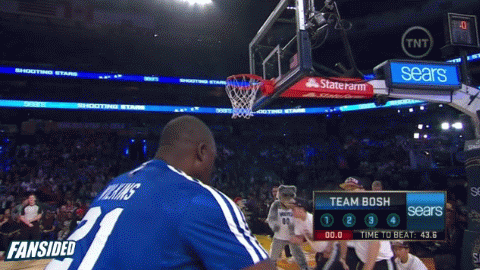 Bosh connected on the half court shots in the first round and in the championship round as team Bosh wins for the second year in a row. Team Bosh also had the best time in the first round with a time of 35.6.
Kevin Durant, Skyler Diggins and Karl Malone were the runner-ups team with a time of 43.6.
Next up at on TNT is the skills challenge followed by the three-point contest and lastly the slam dunk contest.
Stay tuned to FanSided all night long for coverage for NBA All-Star Weekend throughout the night and tomorrow for the All-Star Game.
Tags: Basketball Chris Bosh Dominique Wilkins Miami Heat NBA All-Star Weekend Swin Cash