The videobombing interviews has been a largely NBA phenomenom, but it looks like it is growing. During an interview with ESPN, NASCAR Sprint Cup driver Trevor Bayne found himself the victim of a video bomb.
It looks like the videobomber went for the moose antlers though we can't see his other hand.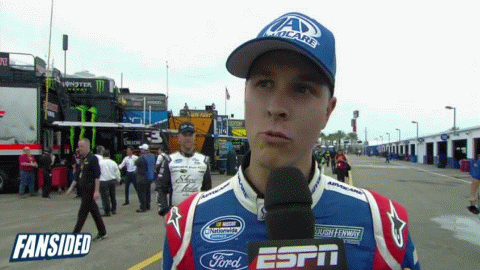 GIFs are courtesy of @FanSidedGIF and Zombie Prophet.
Bayne is a Daytona 500 champion winning in 2011, and the youngest to do so.
"I would say the Daytona 500 was definitely the race win that changed my career," he said, via the Miami Herald. "To this point, everybody wants to see No. 2, I guess. It kind of wears off after a little while as far as the glamour of it all. To be a Daytona 500 champion at this point in my career is unbelievable but we are still fighting hard as if we never won it before.
"You always want to win races whether it is proving it isn't a fluke or proving you can do this or just to win races. You don't have to really prove anything, you just want to win. That is our desire and competitive nature."
He has a whole season to get another win.
Tags: Trevor Bayne