Buffalo linebacker Khalil Mack had the opportunity to leapfrog UCLA's Anthony Barr as the top linebacker in the 2014 NFL Draft class on Monday, and he put on a great show at the NFL Scouting Combine in Indianapolis to all but guarantee a top ten selection.
On his first 40-yard dash attempt, Mack got off to a slow start but still managed a 4.66.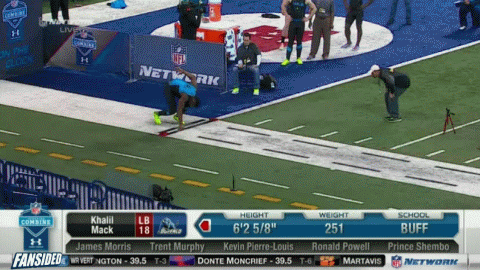 Mack improved on that time on his second attempt with a better start by recording a 4.62, but he still lacked the technique to get the stellar time he was hoping for.
When the athletes take the field for position drills, Mack should prove to be the better and more fluid athlete with his open hips and ability to change direction.
While 40-yard dash times are nice to look at and compare, it will be the ability to show off in position drills that really blow away the scouts. That is where Mack should shine the most.

Dick's Sporting Goods presents "Hell Week":
Tags: 2014 NFL Draft Khalil Mack NFL Draft NFL Scouting Combine