The 11-seed Dayton Flyers took one 6-seed Ohio State Buckeyes in the first game of the round of 64 in the NCAA tournament. It was a back and forth game that came down to the wire and with just under 11 seconds left on the clock, Dayton had possession on an inbounds pass. Ohio State's Aaron Craft had just made a layup to give the Buckeyes the lead and Dayton was down one point.
Dayton passed the ball in and Vee Sanford drove towards the basket putting a floater off the glass which banked its way in to give Dayton the one-point lead. Ohio State got the ball and went down the court and Craft had the ball in his hands. Craft drove through a crowd of Dayton defenders and put the ball up and it bounced off the glass and hit the rim before bouncing out.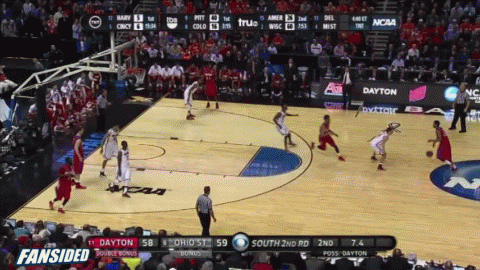 GIFs are courtesy of @FanSidedGIF and Zombie Prophet.
Here is each play isolated, Dayton's game winner: Craft's miss: