In the main event of RFA 14 on AXS TV Saturday night, Matt Manzanares and Junior Maranhao faced off for the promotion's vacant flyweight title. It was an exciting bout that saw Manzanares taking a split-decision win, but there was a stunning moment in between the fourth and fifth-round that should have caused the bout to come to an end.
Inexplicably, the bout continued after Maranhao collapsed in his corner and went completely unconscious.
He was caught in a triangle choke leading up to the end of the round.
The doctor came into the ring and barely gave Maranhao a look, with his cornermen telling the doctor their fighter was okay to continue. You can see Maranhao collapsing to the ground in the GIF below.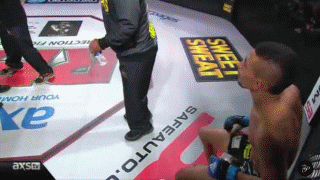 After an incident like that, there is no way that the bout should ever be allowed to continue.
MMA is a dangerous sport and the fighter safety should always come first, so when you see a fighter collapse to the ground unresponsive that should be the end of the bout. By allowing the fight to continue, the doctors and Maranhao's cornermen failed to do their jobs.
In a case like this, the athletic commission needs to step in and hand down punishment to those who allowed the bout to continue. They should all be stripped of their licenses for gross negligence.
This is the kind of thing that can lead to a tragic event inside of a cage.
Ultimately, Maranhao appeared to recover and went on to go the distance, but he should have never been put in that danger.
FanSided.com has reached out to The Wyoming State Board of Mixed Martial Arts and will update the story if they provide comment.
Tags: Junior Maranhao RFA RFA 14