On Saturday night, Manny Pacquiao was able to reclaim his WBO welterweight title with a win over Timothy Bradley. While Pacquiao put on an impressive performance and earned a clear-cut decision win, it was his mother that stole the show.
When the cameras cut to Pacquiao's mom in between rounds, it was clear that it pains her to see her son fight. Either that, or she is trying some voodoo on Bradley. Oh, and she loves that middle finger.
All of these things created an amazing GIF that we can watch over and over again to relive Pacquiao's mom's performance on Saturday night. It may have just been the greatest one of the night. Sorry, Pacman and Timothy.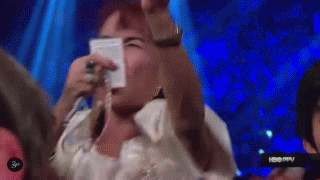 By the way, Pacquiao, I am in no way making fun of your mother. I bet she is a scholar and a saint. Please don't punch me.
Tags: Boxing Manny Pacquiao