The Cincinnati Reds and the Pittsburgh Pirates combined for 10 home runs before rain suspended the game. It tied the record for most combined homers in a major league game since 2006.
"I saw a lot of crazy stuff in Coors Field over the years," said Pirates manager Clint Hurdle, via ESPN "I spent a lot of years there, saw a lot of homers, saw a lot of weather.
"This was as good as any of that, jammed into one evening."
"I've never seen anything like that," Reds manager Bryan Price said. "The way we got started, one team going in front of the other with home runs. I've seen a lot of home runs hit, but not in those conditions. You wouldn't imagine they would carry that far."
After one a pair of home runs in the top of the sixth inning, the Pirates did WWE superstar Daniel Bryan's famous "Yes!" chant to celebrate.
It happens after the 3:45 mark.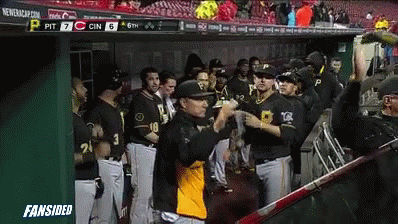 GIFs are courtesy of @FanSidedGIF and/or Zombie Prophet, make sure to follow both for the latest in GIFs from FanSided.
Tags: Pittsburgh Pirates