The last time we saw Chicago Blackhawks All-Star right winger Patrick Kane on the ice, he was on all fours on the ice after colliding with the St. Louis Blues that resulted in a lower-body injury that kept Kane out of the lineup for the rest of the regular season.
However, Kane may have the last laugh as he put the Hawks on top of the Blues in a frenetic first period that saw the teams trading goals to a 2-2 tie before Kane scored on this beautiful breakaway to put Chicago up 3-2.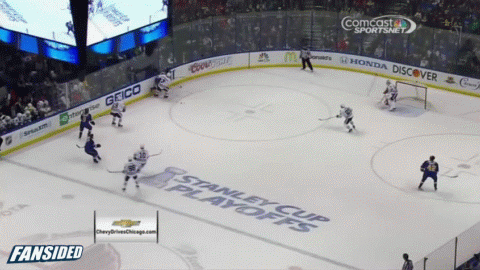 If this first period of tonight's Game 1 is any indication of what is in store for the rest of tonight, then NHL fans are going to be in for quite the thrilling hockey in what promises to be an intense first round matchup.

Dick's Sporting Goods presents "Hell Week":
Tags: Chicago Blackhawks GIF NHL Playoffs 2014 Patrick Kane St. Louis Blues