Bernard Hopkins is defying all odds by being a 49-year-old major title holder in boxing, so it is only fitting that he changed his nickname to "The Alien." Even better is the fact that Hopkins suits up with an alien mask for his walkouts, which he did again on Saturday night when he took on Beibut Shumenov in the main event on Showtime.
Hopkins came out sporting the mask and went on to score another impressive win on his way to unifying the light heavyweight titles.
There was some controversy after the bout, with Hopkins only winning by split-decision after judge Gustavo Padilla criminally scored the fight in favor of Shumenov, but he was still rightfully given the belt.
All controversy aside, let's take a look at Hopkins' awesome entrance with the alien mask out in full force: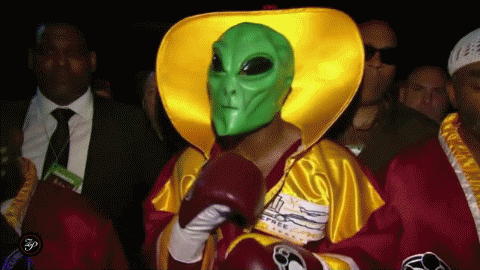 Here is another photo just for good measure:
Tags: Bernard Hopkins Boxing