During the second period of the playoff game between the Colorado Avalanche and the Minnesota Wild, Minnesota's Nino Niederreiter laid into Colorado's Andre Benoit along the boards. Benoit fell flat on his back and laid there.
When he got up he was wobbly and had to be helped to the ice.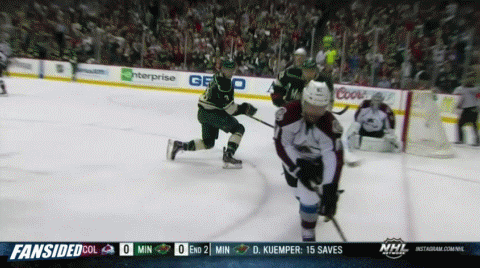 GIFs are courtesy of @FanSidedGIF and/or Zombie Prophet, make sure to follow both for the latest in GIFs from FanSided.
Benoit later returned to the ice.
Andre Benoit back on the sheet. Great to see. #AvsVsWild

— Colorado Avalanche (@Avalanche) April 22, 2014
Allowing Benoit back on the ice met with some criticism.
Apparently the NHL's concussion protocol questioning doesn't include "do you know where you are?" #AndreBenoit

— Shaun Bisson (@ObserverShaun) April 22, 2014
How is Andre Benoit back in the game for Colorado? He got his bell ring earlier and was wobbly getting off.

— Todd Cordell (@ToddCordell) April 22, 2014
And apparently the Wild fans booed him.
Wild fans boo Andre Benoit when he's down. Classy Minnesota, real classy.

— Colorado Insider (@PurpleRocktober) April 22, 2014