The Minnesota Wild were hosting the Colorado Avalanche in the third game of their Stanley Cup playoffs first round match up. The Avalanche came to Minnesota with a 2-0 lead in the series, and the Wild desperately needed a win.
It was a close game with regulation ending in a 0-0 draw meaning there would be playoff overtime hockey, one of the greatest things in all of sports. It was a brief overtime period though.
Wild's Mikael Granlund was fighting off some defenders coming around the back side of the net. Heading towards the boards it looks like he passes to the point but he must've pulled the puck back. He then gets away from the defender goes across the front of the goal and puts the puck in the back of the net to win the game.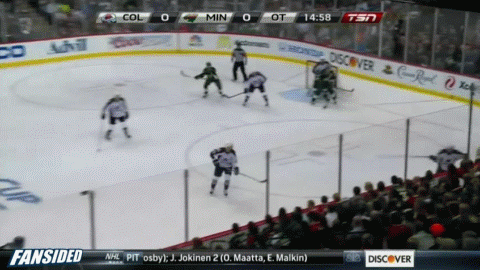 GIFs are courtesy of @FanSidedGIF and/or Zombie Prophet, make sure to follow both for the latest in GIFs from FanSided.
Tags: Minnesota Wild