What happens when the 6'10 Udonis Haslem goes up for a dunk and the 6'4 Gerald Henderson jumps with him? Well…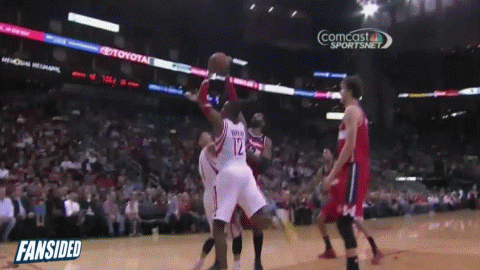 Henderson isn't as complete a player as many would like him to be, but he's very capable of providing a highlight play in a game, this block showing that. He's an athletic two-guard whose learned how to use that to impact the game offensively and defensively.
As for Haslem, it's clear he didn't know Henderson would be there once he received the ball in the pick-and-roll. Had he know, Haslem would've either 1) changed his approach by pump-faking or 2) dunking the ball harder or faster. Unfortunately he didn't and this allowed him to become a member of SportCenter's top-10 best plays of the night, but not in the manner he'd likely hope for.
Gerald Henderson is currently third in scoring for the Bobcats with 13 points as the fourth quarter is underway. They'll need more from the lottery pick (and more blocks like the one above) if they want to even up the series before they head home.
Tags: Charlotte Bobcats Gerald Henderson NBA NBA Playoffs 2014 Udonis Haslem