How do you stop Lebron James when he's attacking the basket? The league hasn't really found out yet, but Josh McRoberts figured throwing an elbow at James' throat is the best plan available.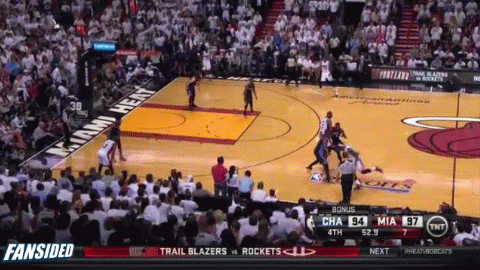 Shockingly enough, McRoberts didn't receive any form of a flagrant foul on a play that was far from what the NBA considers "a basketball play". There are instances like Lebron James vs. Roy Hibbert where contact is going to happen because when speed meets an immovable object the world explodes. But here, McRoberts' intent seemed a bit malicious.
Judging by how the NBA handles situations like these, McRoberts chances of playing in Game 3 are really low at the moment which would be a big blow to the Charlotte Bobcats as they lack depth at the forward position. He'll also be retroactively called for the flagrant foul the referees blatantly missed which is odd because refs are quick to call a flagrant foul when someone gets physical with a league superstar such as Lebron James.
Tags: Charlotte Bobcats Josh McRoberts Lebron James Miami Heat NBA NBA Playoffs 2014