The Detroit Red Wings sent Jordin Tootoo down to the Grand Rapids Griffins of the American Hockey league in the middle of this season. While surely not ideal and he'd rather be competing in the Stanley Cup playoffs with the Red Wings, he did make one fan's night incredibly special.
A young fan was standing on the bench when Tootoo walked down it, and the boy excitedly yelled out "Tootoo" and went for a fist bump. Tootoo stopped and said "what's up buddy" before putting the butt of his stick on the bench.
He then said it is "all yours" and gave him the stick. The kid appropriately freaked out and had a big smile on his face.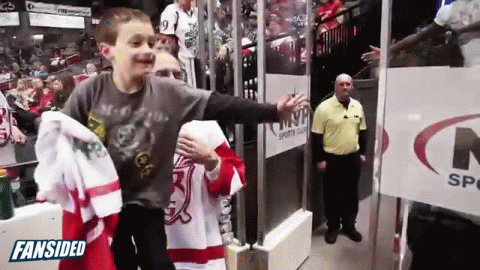 GIFs are courtesy of @FanSidedGIF and/or Zombie Prophet, make sure to follow both for the latest in GIFs from FanSided.
Tags: Detroit Red Wings