Alexander Rusev is taking on Xavier Woods and R-Truth in a handicap match on WWE's Extreme Rules. The crowd focused on Lana and didn't stop chanting about her until she was shown on the jumbotron.
Rusev attacked the two outside of the ring before the match started and went to work on R-Truth in the ring. R-Truth recovered and got control however, and landed a two-footed drop kick off the top rope.
He then hit a scissor kick leg drop after bouncing off the ropes and went for a pin but Rusev kicked out. Rusev than caught Truth in mid-air, and while Truth was able to reverse, Rusev landed a big shoulder bump on Truth, then slammed him.
Rusev went for the accolade lock and Truth tapped out, but Rusev was slow to let go. It was a boring match that ended pretty quickly. Xavier Woods was never in the match, recovering from the beating Rusev dished out before hand. As he was leaving the ring, Lana instructed him to attack Woods again, and he obliged.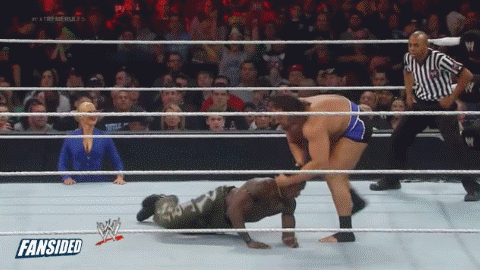 GIFs are courtesy of @FanSidedGIF and/or Zombie Prophet, make sure to follow both for the latest in GIFs from FanSided.
For other match-by-match results, check out the following:
Tags: Extreme Rules WWE