The New York Rangers and Pittsburgh Penguins resumed their best of seven series with each team winning one of the first two games in Madison Square Garden tonight as the series shifted to the Big Apple.
Both teams were held off the scoreboard in the first period, but the Rangers came awfully close on this shot from Benoit Pouliot who hit the post as Marc-Andre Fleury was spared from giving up the goal.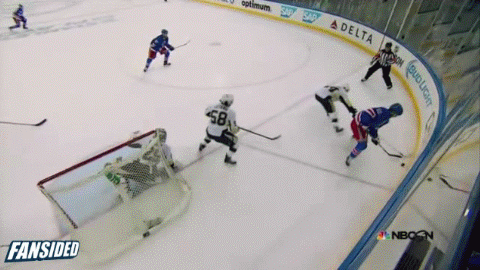 Will the Penguins good fortune last into the next two periods or will the Rangers slip one past Fleury?
Pittsburgh and New York are tied in the series at one game a piece.
You can watch the remainder of the game on the NBC Sports Network as the second period is about to get underway.
Tags: New York Rangers NHL Playoffs 2014 Pittsburgh Penguins