The Washington Wizards are taking on the Indiana Pacers in the second round of the NBA Playoffs, and it will be a tough match up for the Wizards. Point guard John Wall isn't looking to concerned though and pulled of an incredible pass.
Wall went up for a lay up when he was greeted in the paint by Pacers' Roy Hibbert. He gave up on the bucket and wrapped the ball around Hibbert's back passing it to Nene, who wasn't exactly ready or expecting a pass.
It took him a second to get the ball after it bounced off of him, but he managed to dunk it.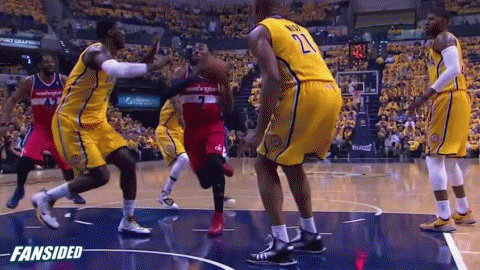 GIFs are courtesy of @FanSidedGIF and/or Zombie Prophet, make sure to follow both for the latest in GIFs from FanSided.
And here is a Vine of the play:
Jahn Wall's wrap pass live and replay views https://t.co/qaLsMtg4Wm

— CJ Fogler (@cjzero) May 5, 2014
Tags: Washington Wizards