The Oakland Raiders play in one of the toughest divisions in all of football, and all three other teams in their division made the playoffs in 2013. It is a division that also features one of the NFL's best offenses and the Raiders have a tall order trying to stop those offenses, so when their pick came up at No. 5 overall in the first round of the 2014 NFL Draft, they selected Buffalo linebacker Khalil Mack.
He is added to a revamped Raiders team that also added defensive end Justin Tuck and quarterback Matt Schaub of the Houston Texans via a trade. Many draft experts felt like Mack could've gone No. 1 overall, so they got a quality player.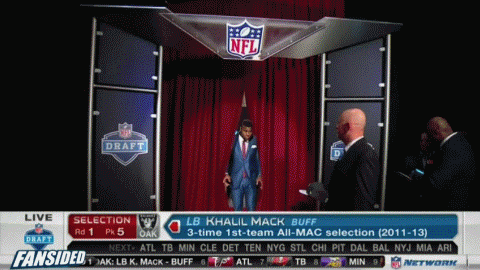 GIFs are courtesy of @FanSidedGIF and/or Zombie Prophet, make sure to follow both for the latest in GIFs from FanSided.