The Philadelphia Eagles traded back twice in the 2014 NFL Draft. First they moved back one spot from their original No. 21 selection to No. 22 in a trade with the Green Bay Packers. They moved back a second time to No. 26 in a trade with the Cleveland Browns.
When their No. 26 pick came up they kept it and drafted Louisville Cardinals defensive end Marcus Smith. It was a somewhat surprising pick and the crowd in attendance let out a collective groan. You thought head coach Chip Kelly would've focused on the offense and gone with a wide receiver, but instead he made a less glamorous pick.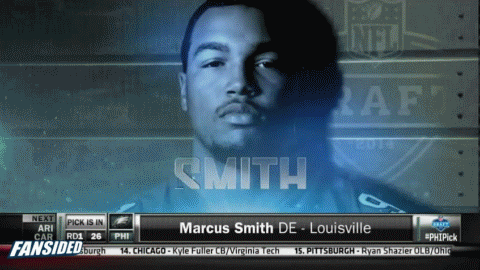 GIFs are courtesy of @FanSidedGIF and/or Zombie Prophet, make sure to follow both for the latest in GIFs from FanSided.