The Tennessee Titans had the No. 11 pick in the draft, and addressed their offensive line by drafting Michigan Wolverines tackle Taylor Lewan. After the draft pick, Adam Schefter reported that the Cleveland Browns considered trading up to No. 11, but they ultimately didn't
Lewan will be inserted in a new Titans offense and be charged with protecting quarterback Jake Locker who is trying to keep his career on track recovering from injury. The ESPN NFL Draft broadcast team kept referring to Lewan as a bull in a china shop, and Lewan has a mean streak and some off-field incidents in his past.
Nevertheless, he is a good offensive lineman.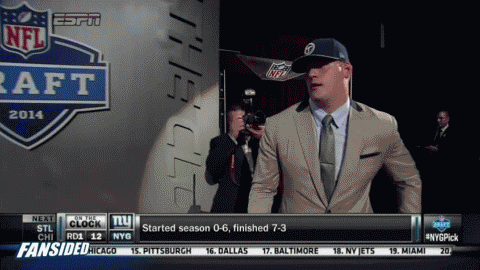 GIFs are courtesy of @FanSidedGIF and/or Zombie Prophet, make sure to follow both for the latest in GIFs from FanSided.