Lebron James is a physical specimen. Never have we seen such combination of size, strength, and speed in a wing player, and once a game he shows us what happens when he puts all three of those factors to use.
That's how he converted a flagrant and-one after Paul Pierce grabbed his shoulders on a layup attempt.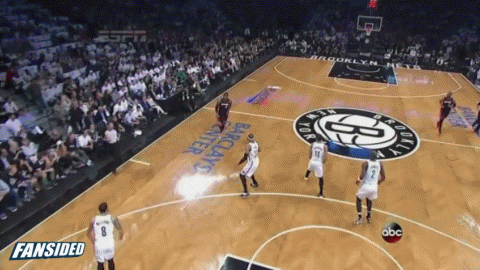 There's no official stat book in front of me, but it's not often that a player converts a flagrant foul into an and-one layup. And considering James' size, some may not think that Pierce's warranted a flagrant foul, but Lebron doesn't react to physicality the way 85 percent of the players in the league would. While he finishes through contract from Pierce and Kevin Garnett, another player would've likely ended up on the floor.
While the rest of his teammates are having an average game, James has forced his will on the Nets in the opening quarter of Game 3. At the end of the first quarter, the Miami Heat up 30-29 over the Brooklyn Nets, James finished with 16 points on 6-of-7 shooting along with two rebounds, two steals, a steal and a block.