In desperate times, desperate measures take place. For the Indiana Pacers, this means inserting Chris Copeland into the lineup despite the fact that he should be getting the bulk of Luis Scola's minutes.
And how does Copeland repay the Pacers for giving him playing time in a blowout? By tackling reserve forward Al Harrington at the free-throw line: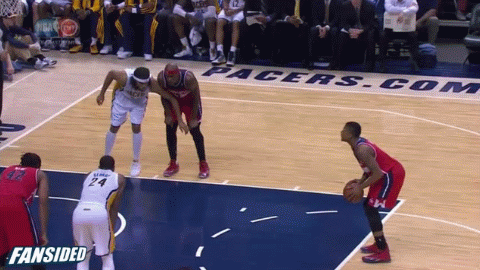 Not giving the Pacers much on offense, Chris Copeland has found some way to impact the game: by doing his best to box out AH
With five minutes left in the game the Pacers are down 30 points to the Wizards… at home. They can't stop John Wall (27 points on 11-20 shooting, 5 assists, 5 rebounds), they can't stop Marcin Gortat (31 points on 13-15 shooting, 16 rebounds) and they can't secure possessions by way of rebounding the ball (being out rebounded 58-18). Add the fact that the Pacers can't get anything going on offense outside of Paul George and David West and Game 5 has turned into an unmitigated disaster.
Wrestling tactics aside, there's always Game 6 for the Pacers.
Tags: Al Harrington Chris Copeland Indiana Pacers NBA NBA Highlights