The Miami Heat are trying to overcome a deficit to steal game one of the Eastern Conference Finals from the Indiana Pacers. They came into the fourth quarter down 13 points, but quickly scored four points to bring the lead to single-digits.
The Pacers were able to recover from the quick burst, and it was in part because of a dirty play by Heat guard Mario Chalmers. He was playing defense on the Pacers' C.J. Watson, who was trying to go to the rim and left his feet. While in the air, Chalmers shoved him and Watson fell to the ground hard.
It was originally called a technical but then changed to a flagrant. Watson got to take three free throws because there was a penalty called at the elbow before, and the shove was after the whistle.
Watson made all three.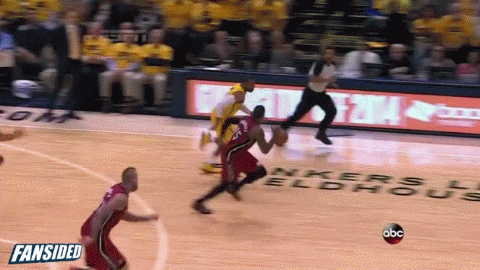 GIFs are courtesy of @FanSidedGIF and/or Zombie Prophet, make sure to follow both for the latest in GIFs from FanSided.

Dick's Sporting Goods presents "Hell Week":
Tags: Indiana Pacers Miami Heat