On Friday night, Lion Fights invaded the Foxwoods Casino Resort in Mashantucket, Connecticut for an exciting Lion Fight 15. The event, which aired on AXS TV, brought world class Muay Thai front and center for combat sports fans.
One of the more intriguing bouts on the AXS TV main card was a rematch between former Lion Fight lightweight champion Tiffany Van Soest and Lucy Payne.
In their first meeting, Van Soest was able to batter Payne in just two and a half minutes on her way to a knockout win.
Payne has been looking to even the score and the opportunity came on Friday.
Round 1: Payne was looking to keep the distance early and staying on the outside, as Van Soest circled and worked some leg kicks as she attempted to find her rhythm and an opening. Van Soest was throwing some heavy shots while Payne was hesitant to let her striking go. Van Soest was working the legs and body before clinching up Payne to push her up against the ropes. Payne stepped in for a flying knee, but Van Soest got out of the way and unleashed a flurry of shots of her own. Payne got her wish of lasting longer than she did in the first meeting between the two, but she took some brutal shots to close out a round that was clearly won by Van Soest. FanSided scorecard: 10-9.
Round 2: Van Soest leaped in with a right hook to start with the second round before both women exchanged some leg kicks. Van Soest began to open up her attack as Payne was left with no choice but to hold up her guard and play defense. Van Soest anded a heavy combo after the action restarted following a clinch against the ropes as her momentum began to pick up. Van Soest executed a beautiful dump in the middle of the ring as she really began to find her rhythm. After a spinning back elbow and spinning backfist, Payne was left in an early two round hole. FanSided scorecard: 10-9, Van Soest (20-18, Van Soest).
Round 3: Payne was coming forward more in the third round, but she was unable to track down Van Soest who was showing some great movement around the ring. Van Soest landed a perfectly time leg kick that swept Payne down to the mat. Payne was trying to get the clinch, but she was unable to land any shots when she had control. After a few failed front kicks, Van Soest landed a counter and came charging in once again. It was all Van Soest through three rounds. FanSided scorecard: 10-9, Van Soest (30-27, Van Soest)
Round 4: Payne was going to need a knockout or multiple knockdowns if she wanted to get her revenge against Van Soest, but she wasn't having any success with her strikes. When Payne would look to open up, she would lose out to Van Soest's speed and eat multiple counters for her efforts. Van Soest landed a spinning back kick to the body before pressing forward in the final minute of the round as the former champ began to cruise knowing the fight was heavily in her favor. FanSided scorecard: 10-9, Van Soest (40-36, Van Soest)
Round 5: Payne didn't look like a fighter who was down four rounds on the judges scorecards as she continued to plod around the cage unable to catch Van Soest. With just a minute to go, Van Soest opened and continued to land shots at will as she left no doubt in anyone's mind that she was the winner of this fight. FanSided scorecard: 10-9, Van Soest (50-45, Van Soest)
When the judges scorecards were read, there was a stunning scorecard by one of the judges that had Payne winning all five rounds but the right fighter was given the win. (Editor's Note: The result was initially read as a split-decision, but a scoring error on the judges scorecard was cleared up and Van Soest was awarded the unanimous decision win.)
Official Result: Tiffany Van Soest def. Lucy Payne via unanimous decision (50-45, 50-46, 49-46)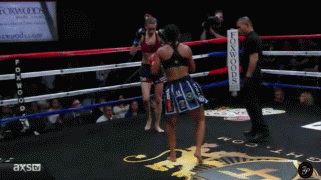 Stay tuned to FanSided.com throughout the night for full results from the Lion Fight 15 main card.