LeBron James wasted no time making his presence felt in Game 6 of the Eastern Conference finals as he throws down this monster alley-oop from Mario Chalmers.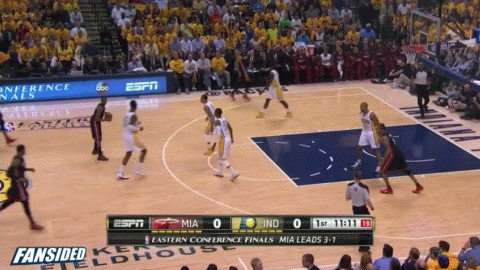 Despite not winning the MVP during the regular season, LeBron James has casually reminded observers why he is the best player in the NBA as he's dominated during the 2014 NBA playoffs. In 13 games played, James has averaged 28.8 points on 57 percent shooting from the field (35 percent from three), 7.4 rebounds, and 5.0 assists per game. In those same 13 games, James has posted a Player Efficiency Rating of 32.2, the highest during his time with the Miami Heat and the second highest of his NBA career, as he posted a PER of 37.4 during the 2008-09 playoffs.
Since the opening alley-oop, LeBron James has struggled out of the gates in Game 5, missing his next four shots before going to the bench after his second foul. If the Miami Heat hope to win this series, they're going to need their best play run LeBron James to up the effort once he returns to the game. If he doesn't do so, this series will be returning to Miami for Game 6.
Tags: Lebron James Mario Chalmers Miami Heat NBA NBA Highlights