The Serge Ibaka shot-blocking experience has worked wonders against the San Antonio Spurs in the Western Conference finals, but when he's missed he's missed big. First Corey Joseph exposed him at the rim and now Kawhi Leonard, for the second time this series, has shown Ibaka the business by flushing down a monster dunk over the Defensive Player of the Year candidate in Game 6.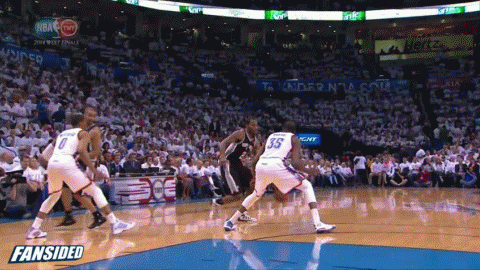 Playing on the same team as Tim Duncan, Tony Parker, and Manu Ginobili, Kawhi Leonard often flies under the radar despite his importance to the San Antonio Spurs, but during these playoffs he's done more to become sort of a household name to casual fans.
Despite having to match up with Kevin Durant and Russell Westbrook on the defensive side of the ball, Leonard has played well during the Western Conference finals, averaging 10.8 points, 4.4 rebounds, and 2.2 assists per game.
If he continues to make plays as similar to this throughout the remainder of the playoffs, especially over the best shot blocker in the league in Serge Ibaka, he'll continue to grow in fame despite playing on the "boring" San Antonio Spurs.
Tags: Kawhi Leonard NBA NBA Highlights NBA Playoffs 2014 San Antonio Spurs