Things are going the wrong way for Portugal early in their game against Germany. These two teams were the favorite to get out of Group G, labeled the "group of death."
They got a penalty called against them in the opening minutes of the game that led to a goal from Thomas Müller. Then they found themselves down 2-0 after a header from Mats Hummels on a corner kick from Toni Kroos.
Then things got even worse for Portugal if that is even possible. Portugal defend Pepe was defending Müller when it looked like Müller went down and embellished their contact. Müller grabbed his face and was sitting on the ground and Pepe wasn't having any of it. He then walked towards the seated Müller and bent over putting his forehead on Müller's.
All this mind you was in plain sight of the referee who was walking and looking that direction. Pepe got a red card for fighting and the Portugal team has a whole half ahead of them to play man down.
The good news for the United States men's national team is that it means Pepe will miss their match up in six days.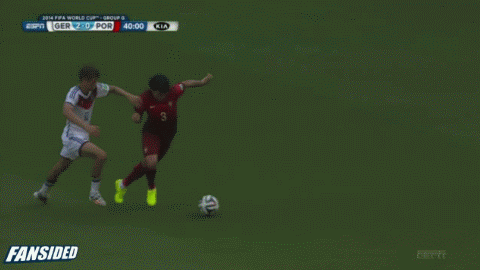 GIFs and videos are from @FanSidedGIF and either Mike Dyce or Zombie Prophet, make sure to follow those accounts for the latest in GIFs and videos from FanSided.
Tags: 2014 World Cup Germany Soccer Portugal Soccer World Cup World Cup 2014