The defending World Cup champions Spain's 2014 campaign got off to a rough start. They were absolutely destroyed and embarrassed in a 5-1 rout by the Netherlands, the team they beat in the 2010 final in South Africa.
Spain was expected to come out firing against Chile on Wednesday, and the South Americans were well aware of the motivation the Spanish side would have.
Unfortunately for Spain, things aren't off to a better start in this game. Xabi Alonso gave away the ball and the Chilean attack was on. Charles Aránguiz and Alexis Sánchez worked the ball down the field before cutting it across the box to Vargas.
Spanish goal keeper Iker Casillas tried to get back to Vargas to stop the ball but was unable to get a hand on it and just like that the Spanish found themselves down in a 0-1.
If Spain can't get a win out of this, their World Cup will be over and they won't be able to advance out of the group.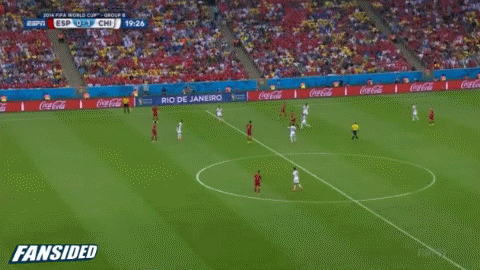 GIFs and videos are from @FanSidedGIF and either Mike Dyce or Zombie Prophet, make sure to follow those accounts for the latest in GIFs and videos from FanSided.
Dick's Sporting Goods presents "Hell Week":
Tags: 2014 World Cup Chile Soccer Spain Soccer World Cup World Cup 2014