Croatia and Cameroon are squaring off in World Cup Group A action. It is only the second game of group play, but the loser will be eliminated from the tournament and it won't be mathematically possible for them to advance.
The winner could climb back into the race with Brazil and Mexico atop the table at only four points. Croatia feels like they should've gotten some points from their opener against Brazil, and came out extremely motivated getting an early goal against Cameroon.
It took them till the second half to get another goal, and it was part beautiful and part baffling on the Cameroon keeper's part. Ivan Perisic was coming in on goal and had a terrible angle at the goal.
He still took a left footed shot and beat the goal keeper between him and the post. The goal keeper thought he was going to go right and potentially try and cross it to a player at the back post and Perisic went the other direction.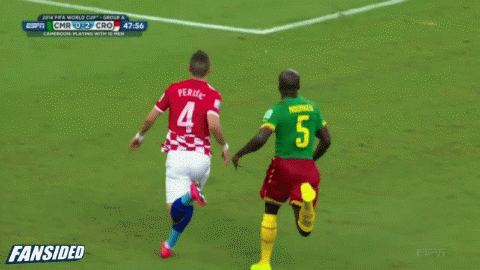 GIFs and videos are from @FanSidedGIF and either Mike Dyce or Zombie Prophet, make sure to follow those accounts for the latest in GIFs and videos from FanSided.
Tags: 2014 World Cup Cameroon Soccer Croatia Soccer World Cup World Cup 2014