The Australia World Cup team looked like they were in for a whole lot of trouble after an incredible run and goal from Netherlands' Arjen Robben in the 20th minute. The Dutch team didn't have time celebrate really before Australia turned around scored the equalizer.
It was a remarkable left-footed strike from Tim Cahill, who with that goal has accounted for half of all of Australia's World Cup goals according to the announcers. It was the kind of goal you'd call a "golazo."
Dutch manager Louis van Gaal warned his team about taking Australia too lightly, and if they forgot that Cahill goal might have waken them up.
"You win the World Cup by winning the final," said Van Gaal, via FIFA.com. "This is just the first step. We have to keep our feet on the ground, we shouldn't get ahead of ourselves. We need to prove our capability to win over Australia, which won't be that easy.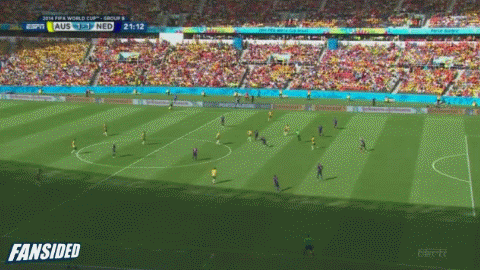 GIFs and videos are from @FanSidedGIF and either Mike Dyce or Zombie Prophet, make sure to follow those accounts for the latest in GIFs and videos from FanSided.
Tags: 2014 World Cup Australia Soccer Netherlands Soccer World Cup World Cup 2014