Mixed martial arts and kickboxing legend Mirko Cro Cop faced off against Jarrell Miller in the feature bout of GLORY 17 on Saturday night, in what was a highly anticipated rematch between the two heavyweights.
In the first meeting, Cro Cop came away with the win, but Miller was unhappy with the result which many viewed as a highly controversial decision.
The rematch was something that Miller was very mentally prepared for and he wasn't afraid to bring a little bit of trash talk to The Forum in Los Angeles.
"I talked smack, he didn't like it, I fought him in his country, they jerked me around. So I'm gonna talk smack, fight him in my country, beat him again and get the right outcome," Miller told the media following weigh-ins on Friday.
"I'm not playing no games. I didn't come here all the way from New York to LA just to talk smack and not do my job. I'm gonna do what I do best and that's kick ass. If you don't like smack-talk, so what? That's part of the sport. This is a business. And I back up what I say. Coco-Cop is going down. Look out for it, it's coming."
As for Cro Cop, he remained focus on securing the win and wanted to do his talking in the ring.
"I don't care. Talk is talk and a fight is a fight. If it makes him relaxed, then good for him. I don't care. No big deal," he said.
"The strategy will be to kick his ass. I will use my kicks much more than in the previous fight, so we will see what happens in two days. Either you see me knock him out or you see him take care of me. We will see."
How did the action play out?
Round 1: Miller looked ready to use his size to his advantage early by keeping the pressure on Cro Cop early. Cro Cop attempted to stay away with his speed, but a quick knee to the groin brought a temporary stop to the action. Miller was trying to use a lot of knees and kicks in the early going of the fight despite having a boxing background. However, that boxing background was showing with a lot of clinching. After a wild flurry to end the round, the bell sounded.
Round 2: Cro Cop was landing some vicious shots to the ribs that Miller did not seem he had an answer for. Outside of the kicks to the body, there was a lot of clinching from Miller before Cro Cop winged a head kick that soared high as the round came to an end.
Round 3: Cro Cop started off the final round with a slick backdoor hook that was finding a home right behind Miller's guard. After a few exchanges, Cro Cop took another shot South of the border from Miller. Cro Cop threw another heavy head kick that stumbled Miller, before yet another low blow from Miller. Miller marched forward in the final seconds looking for a finish, but Cro Cop's experience gave him the edge as he avoided big shots from Miller and delivered some slick body shots of his own to bring an end to the fight.
Cro Cop should have the edge on the judge's scorecards.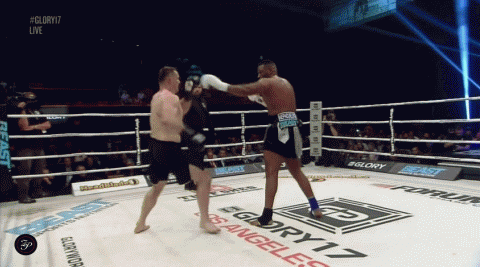 Official Result: Mirko Cro Cop def. Jarrell Miller via unanimous decision (29-28, 29-28, 30-27)