The Americans fell behind early in their game against Portugal, and it looked like all the momentum the Americans had going into the game was sucked out of them. They came into the game in the driver's seat of Group G, which was dubbed the Group of Death.
A win would advance them to the knockout round, and eliminate Portugal and superstar Cristiano Ronaldo in the process. Portugal's Nani put the Americans behind in just the fifth minute of the game.
The Americans played tough for the end of the first half and had chances to tie. It wasn't until the 64th minute that the Americans equalized with a goal from Jermaine Jones.
Jones took a step to his right around a defender and ripped a shot from well outside the box and into the back of the net. It was very reminiscent of the goal Lionel Messi scored to give Argentina the win over Iran.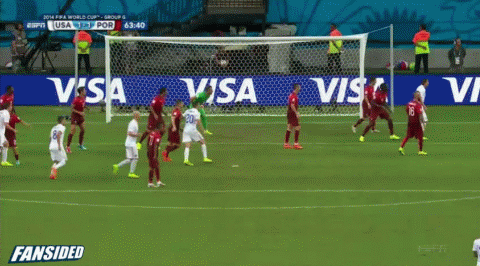 GIFs and videos are from @FanSidedGIF and either Mike Dyce or Zombie Prophet, make sure to follow those accounts for the latest in GIFs and videos from FanSided.