Despite plenty of trade talk leading up to the 2014 NBA Draft, the top of the draft order played out as planned. Teams stayed put and the top-ranked prospects came flying off the board throughout the top four picks.
To round out the top five, the Utah Jazz were on the clock, and they decided to go with Australia point guard Dante Exum.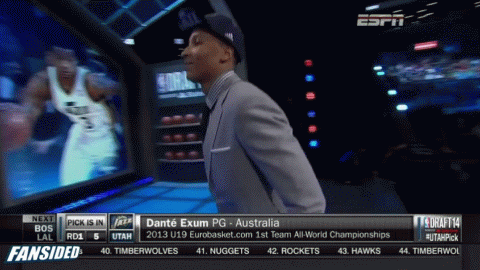 Exum led Australia to back-to-back medals at the FIBA World Championships, so he has certainly had plenty of success in his career. It will now be up to him to prove that can translate to the NBA level.
As far as athleticism among guard prospects goes, Exum is the cream of the crop.
He has rare size and length for the position, so it will come down to whether or not he can mentally handle the rigors of the NBA. There is no doubt he can physically handle what will be asked of him.
There isn't much not to like about Exum as a player, so the Jazz seem to have hit a home run with this pick.
Be sure to stay tuned to FanSided.com throughout the remainder of the night for the latest news, rumors and results from the 2014 NBA Draft.