France and Nigeria were playing an incredibly tense game in the World Cup "Round of 16." France's offensive juggernaut carried them through the Group Stage, but Nigeria's defense and some remarkable goal keeping from Vincent Enyeama have kept them in the game.
Finally in the 79th minute the French were able to penetrate the Nigerian defense to get a ball in on goal. They almost had a goal earlier in the match but a remarkable goal-line save by midfielder Victor Moses kept them tied at zero goals a piece.
Unfortunately for Nigeria, who had played superbly, the goal was a bit of an error on Enyeama's part. He came off his line to play the ball and missed it, allowing it to get to Pogba who headed it home on an open net with Enyeama way out of place.
There is no guarantee that Enyeama would've stopped it had he not tried to make a play on that ball, but he would've had a better chance at stopping it.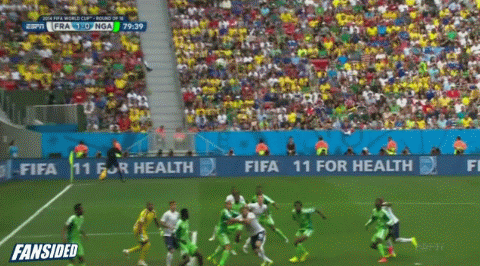 And Pogba tweeted during the game after scoring… take that Terrell Owens.
— Paul Pogba (@paulpogba) June 30, 2014
Yes, we know it was likely someone else under his account.
GIFs and videos are from @FanSidedGIF and either Mike Dyce or Zombie Prophet, make sure to follow those accounts for the latest in GIFs and videos from FanSided.