Brazil was hoping to end their 2014 FIFA World Cup on a high note on Saturday afternoon, in front of their home fans at Estádio Nacional de Brasilia in Brasília against Netherlands in the third-place match.
Unfortunately, that was not the case.
In the opening minutes of the game, Arjen Robben showed his pace and beat the entire Brazilian defense.
Just as he was getting ready to enter the box for a clean shot, Robben was dragged to the turf by Brazil captain Thiago Silva.
Silva was booked with a yellow card, though it should have been a red, and the Netherlands were awarded a penalty kick.
Robin van Persie lined up to take the penalty for Holland and successfully converted with a beautiful shot in the top corner to put the Netherlands on the board in just the third minute of the match.
It was a perfect strike from van Persie that left Brazil's Julio Cesar with no chance at making the save.
Here is a GIF of the match's opening goal.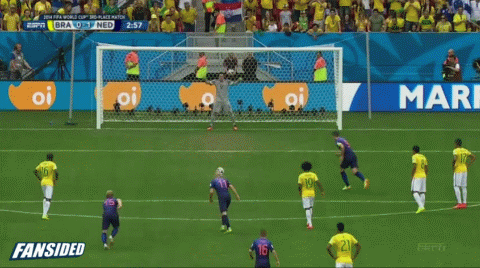 Be sure to stay tuned to FanSided.com throughout the next few weeks for the latest news and results from the 2014 FIFA World Cup in Brazil.