The 2014 World Cup has come to an end, and Germany defeated Argentina with a goal in the second period of extra time to get the win. After the game FIFA announced the awards at the tournament, and Argentina superstar Lionel Messi won the Golden Ball award.
It is basically the "Most Valuable Player" award, and Lionel Messi was great in the group stage but seemed to dis appear during the knockout rounds.
BREAKING – @adidas GOLDEN BALL: Lionel Messi wins the @adidas Golden Ball #WorldCup – pic.twitter.com/AZw73YJ4lc

— FIFAWorldCup (@FIFAWorldCup) July 13, 2014
Messi was not thrilled to receive the award, and begrudgingly went up to accept it. You can just see the pain on his face to be standing up there holding that award knowing he came just short of winning soccer's biggest prize.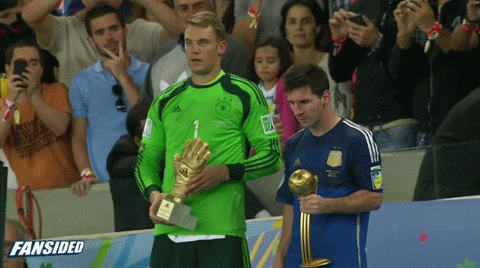 Messi is pumped #ARG pic.twitter.com/gbqXCBlag2 — Michael Shamburger (@mshamburger1) July 13, 2014
— Michael Shamburger (@mshamburger1) July 13, 2014
Golden Gloves: Germany's Manuel Neuer. Golden Boot: Argentina's Lionel Messi. pic.twitter.com/rqgWUNu7SD — BuzzFeed Sports (@BuzzFeedSports) July 13, 2014
GIFs and videos are from @FanSidedGIF and either Mike Dyce or Zombie Prophet, make sure to follow those accounts for the latest in GIFs and videos from FanSided.